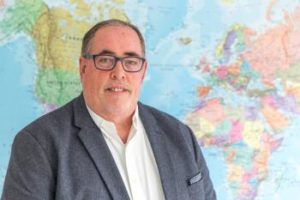 T.J. (Hans) Meeuwisse (1958), left the army at the age of 19, starting his career in the Port of Rotterdam, warehousing soft commodities and metals. At the age of 26 he started Albatros where he developped 2 mothballed locations 'Werkhaven' and 'Dokhaven' into 2 efficiently run stevedoring and warehousing locations, receiving an LME listing, opening a London office, becoming MMTA registered, specialising further in processing ferro alloys. Next to these locations a commodity transfer facility in Tallinn was established.
In 1991 Meeuwisse received honours from the City of Rotterdam for his entrepreneurship in the Port of Rotterdam. In 2001 Meeuwisse bought the idled Vulcaanhaven location, developping the terminal into a specialised ferro alloys terminal, operating 7 processing machines and a deepwater quay. The Vulcaanhaven terminal was sold in 2011.
Meeuwisse is married to Shirley and has two daughters Betty and Emma.
In his spare free time Meeuwisse is a passionate coordination & technical trainer for Under 19 at vv Strijen as well as analyst for USV Hercules playing in the 3rd division.